I've got a new product online: It's a very flexible bondage board for DAZ Studio and Nvidia Iray.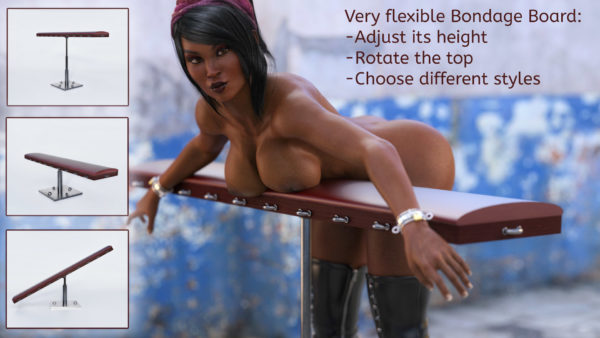 I've designed it so that you can use it for various positions and poses.
It's completely rigged which allows you to adjust its height and tilt its top plate.
You can even hide the four ring sections independently if you don't need them.
There are 5 different surfaces which allows you adjust the bondage board exactly for your needs. To make it easy, I included 5 different styles which you can apply with one single click.
The materials and shaders are optimized for Nvidia Iray in DAZ Studio, but you can of course change them to be compatible with your favorite render engine.
The textures come with 4 texture maps, 2 normal maps and 1 bump map.
This bondage board is not only for Genesis 8 or Genesis 3, you can use it with all your figures, even Victoria 4 or Michael 4,
Just think about all the possible poses you can use it for!
Click here to get the bondage board!
If you are still not convinced, have a look this animation of the bondage board.