In photography light is one of the most important components for a successful image.
In a rendered computer-generated image, it's really no different. Here, too, the lighting is crucial.
With the Studio Light System it becomes easy to use light impressively.
Now you can easily create sexy lingerie shots or stunning portraits without thinking too much about the light.
Just like in a photo studio various light sources are available, which can be adjusted individually.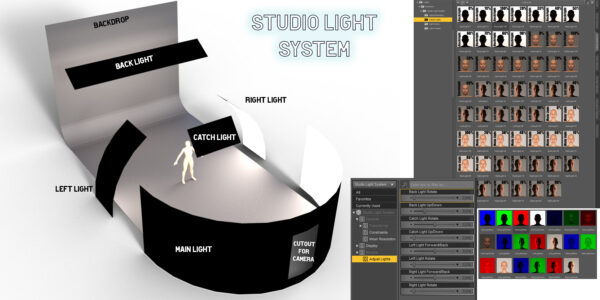 The Studio Light System uses five different lights which can be adjusted independently:
Main Light
Back Light
Catch Light
Right Light
Left Light
You get different one-click settings for the lights and the backdrop and some morphs to adjust the postion of the lights!
The large Main Light that can be used perfectly for shadow-free illumination or also for light brightening. It also has a cutout in the middle, so there are no problems positioning the camera.
Additionally, there is a light from the left and from the right for nice streaks of light on the model.
A catch light for reflections in eyes or to brighten up the face and a back light for the background complete the light setup.
With the help of morphs the position of different lights can be easily adjusted.
For each light source there are presets to adjust the intensity from 0%-100% in steps of 10 and the light color (red, blue, green and white).
If you want to have even more control, you can of course make the settings in the surface tab itself.
There are also three quick settings for the backdrop to change the color to black, white or grey.
You can get the Studio Light System at
These are some example which use the Studio Light System to light the scene. As you see it is perfect for portraits and beauty shots or erotic images.